Most of us take food safety for granted. When you buy groceries off the shelf at the supermarket, you have an acceptable degree of certainty that you won't be puking your guts out 12 hours later.
Yet food scandals still crop up on a fairly regular basis. E. coli outbreaks, melamine in milk, and mad cow disease only scratch the surface of headline-making food safety crises in recent years. During his final year at university in 2009, Eric Chen got fed up with stories like these and set out to do something about it.
After months of research into food safety testing, he and two other students approached professors at the Chinese National State Key Lab. In 2001, these professors came up with a way to test for toxins using fish embryos. Chen told them they wanted to use the research for science competitions, a "low-ball strategy to get the professors to say yes." After winning several regional and international competitions, the two teammates left for the finance industry, but Chen decided to carry on.
In 2010, Hong Kong-based Vitargent was born. Chen hired a team, raised over HKD 10 million (about US$1.3 million) from angel and government investors, and enrolled into the HK Science & Technology Parks Incubation Program.
Now half a decade later, Vitargent has just closed a series A funding round of an unrevealed sum from WI Harper Group (WIH). The money will go toward advancing Vitargent's food testing technology, while WI Harper founder Peter Liu will become the company chairman and help promote the startup to policy makers and industry leaders around the world.
Prior to the investment, Chen says the company had around 10 international corporations and government clients and many more small and medium-sized business in its portfolio. It's not just food and beverage companies, either. Vitargent also tests cosmetics and pharmaceuticals.
Biology versus chemistry
At different product stages – from raw material to packaged item – samples are collected and sent to Vitargent's lab for testing. If it passes, it gets a clean safety report and certification. Vitargent charges a fee for this service.
The startup also licenses its patented tech to clients, for which it charges a licensing and consultation fee. Companies can also purchase the testing equipment used by Vitargent to conduct their own tests.
The biotech startup's main testing method is done using fish embryos. While chemical detection methods used by other labs only detect up to 10 toxins at a time, Vitargent claims its biological method detects up to 1,000. The fish embryos mimic the human metabolic system, making them better for screening harmful chemicals.
"While chemical-specific tests can be sensitive and precise, they are also very narrow and will not detect toxicants for which the analyst is not specifically looking for," Chen says. "Unanticipated toxicants usually go undetected because time, cost, and incomplete knowledge prevent chemical specific testing from being a practical screen for toxicity."
That means the status quo tests only identify the true toxicity about 20 percent of the time, he says. Vitargent's bio-testing method offers "much broader coverage and more meaningful assessment of the food or cosmetics."
These embryos, for instance, glow in the presence of estrogens. Estrogens can cause cancer, harm fertility, contribute to obesity, and factor into many other serious health issues. The brighter the glow, the more estrogens are present.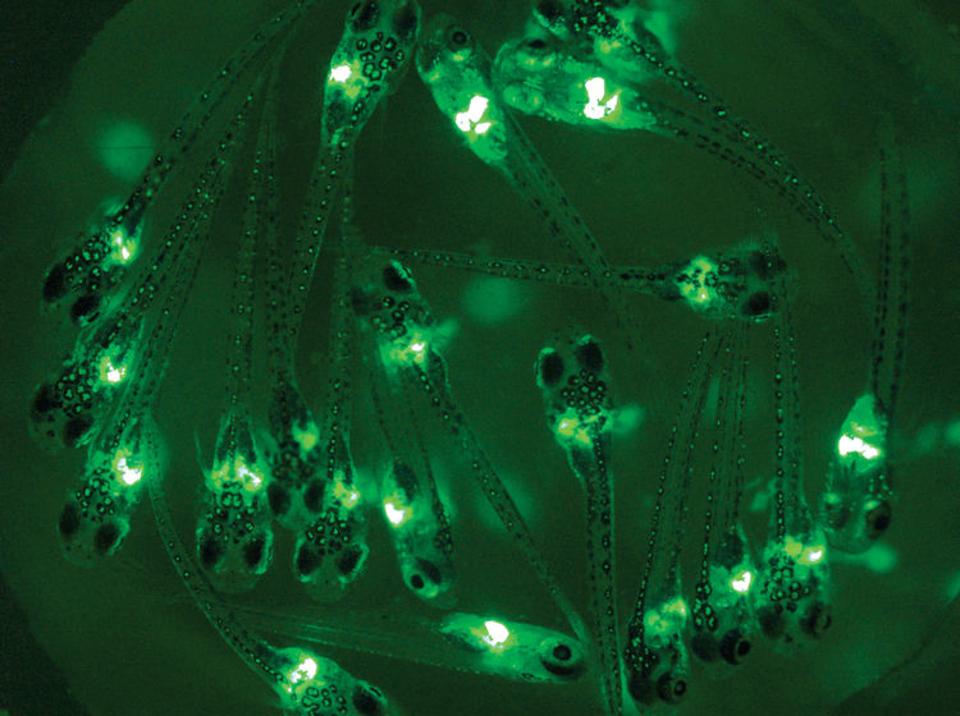 Zebrafish embryos, like the ones pictured below, will die or develop defects like lumps and tumors when in contact with just one of over 1,000 types of toxins.

Safety is optional
Vitargent wants to introduce its methods to foreign markets in the near future. "With global governments and consumers' rising concerns on product safety, we expect to see increase in demand of product safety tests, quality management and certifications," Chen says. The company plans to establish fish farms in Europe and mainland China to meet its global expansion plan.
But even though Chen says the testing and certification industry is worth more than US$100 billion per year and grows 10 percent annually, challenges remain.
"The testing methods that we are offering are not yet mandatory regulations," Chen says, and cost-cutting corporations are often not willing to shell out extra cash to improve their product safety.
Still, Chen remains optimistic, saying a "snowball effect" will bring more clients on board. "When these industry leaders start endorsing and promoting such methods and standards, other corporates and SMEs will follow and, eventually, the government will develop it into a more mandatory standard."
Source: https://www.techinasia.com/tired-food-scandals-startup